why alien moons might just be teeming with life
Extrasolar moons of gas giants may be the perfect worlds for life outside out solar system. And they should be even more common than planets.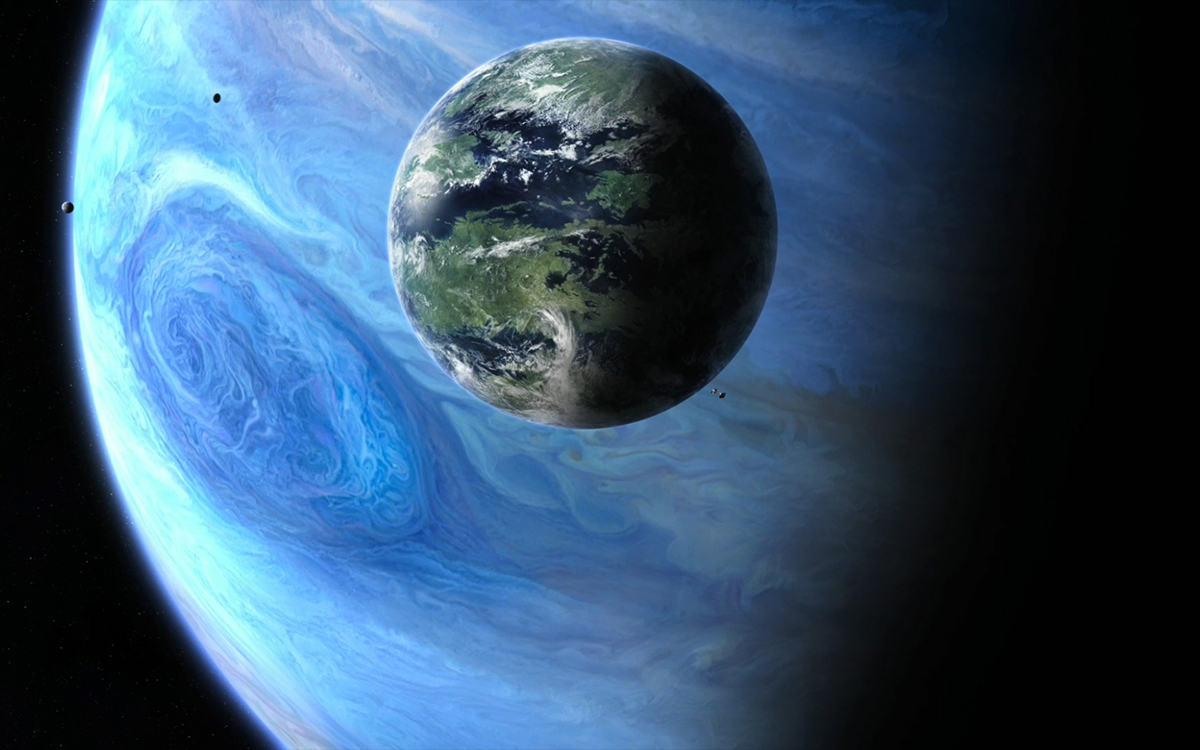 Another day, another study identifying more potentially habitable worlds in the Kepler data, this time by professional astronomers and volunteers called the Planet Hunters who discussed their planet detections on a specialized message board system called Talk. What they found was that more gas giants orbited stars in their habitable zones than initially thought, giving real evidence for the hypothesis that while alien Earths could be somewhat rare, moons orbiting alien Jupiters and Saturns may be a fairly common habitat for extraterrestrial life. Trouble is that we can't see these moons or detect the wobble of the planets they orbit, so we don't know how many of them there are, how big they are on average, and their likely composition. However, we do have very good reasons to assume that they could be there since gas giants in our own solar system are swarmed by moons of all shapes and sizes, and some are very possible hosts to life.
So one would think that a moon big enough to hold on to an atmosphere that's not too dense or composed mainly of greenhouse gases in an alien star's habitable zone would have liquid water in significant quantities. Even better, it would feel the gravitational tides of a gas giant that would in effect knead its interior, promoting volcanism, circulating rich organic matter that could either kick start living things or fuel them. Think of Io but more subdued and covered with oceans and small continents, or Titan without the mind-numbing cold. It could be a perfect habitat, and given billions of years, maybe even evolve intelligent life. But there's a potential problem here. Typical solar system formation models dictate that rocky worlds form closer to a star than gas giants, so to be in the habitable zone of the vast majority of stars out there, alien Jupiters had to drift into these orbits, pushing out rocky worlds and reshuffling their siblings. What would that do to their moons? Would they be collateral damage in the upheaval of the solar system?
Ideally, the immense gravity of these gas giants would push planets aside as they spiral into the habitable zone and their clutches of icy rocks would slowly thaw to host oceans and fertile land for life to start taking hold. But again, the only way we'll know this is if we build bigger and more powerful telescopes to detect their presence and hopefully one day resolve them as pixels for a quick spectrographic sniff of their atmospheres. Maybe, just maybe, decades from now, a future astronomer and a crew of enthusiastic volunteers will be looking through a data set collected by the latest planet hunting telescope and find a little bluish pixel next to a gas giant, or readings of a gas pointing to a stable biosphere, like oxygen from a recently discovered alien moon. It won't be Earth 2.0, but it will be just as important, and we'll be able to look up at the night sky knowing that we're not alone because somewhere, a weird world with a killer view of a turbulent gas giant is home to something that can look back at Earth, even if it won't wonder about us…
See: Wang, J., et al. (2013). Planet Hunters. V. A Confirmed Jupiter-Size Planet in the Habitable Zone and 42 Planet Candidates from the Kepler Archive Data arXiv: 1301.0644v1
---
---