spacex should partner with reaction engines
New designs for potential single stage to orbit space planes won't replace rockets. But they could handle crews while the rockets handle cargo.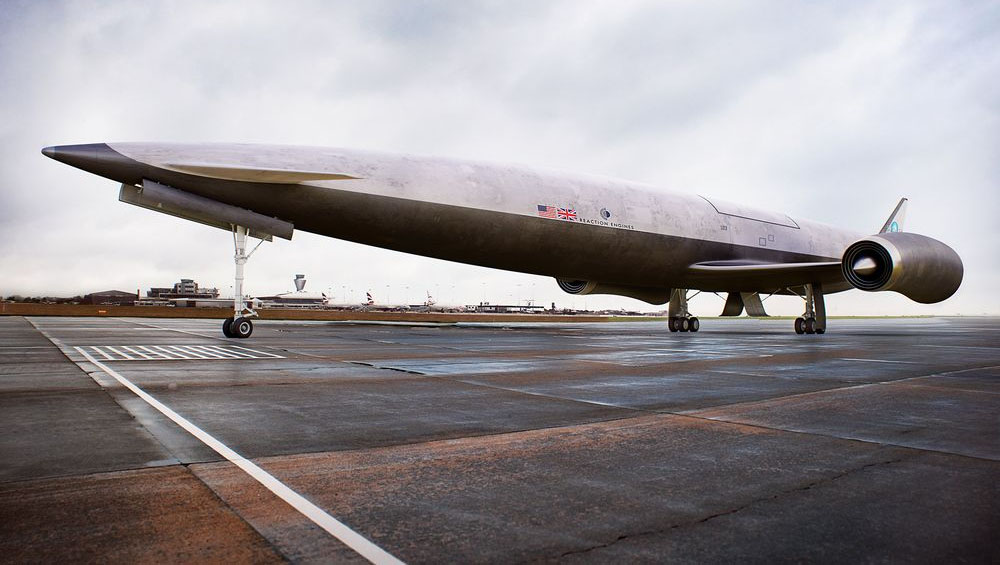 This might seem a little odd, but think about it. Single stage to orbit, or SSTO, space flight is the holy grail of aerospace design right now. If you can fly a plane into space, you can easily reduce launch costs by a factor of ten and still build a profitable business. Not only would you make it a lot more tempting for companies and universities to exploit space, but you can also offer shorter commutes between far flung, attractive destinations, and take space tourism to the next level. A big problem with SSTO however, is that it's been tried before with few positive results because physics tend to get in the way of a smooth ascent to orbit. If you need to drag tons of oxidizer to incredibly high altitudes, you may as well just use a rocket. If you try to gulp down the incoming air, you'll be dealing with blistering heat that will be monstrously difficult to compress and use to provide thrust. But the brainchild of engineer Alan Bond, Reaction Engines, has recently shown that it has a solution to a viable hybrid engine for the SSTO craft it wants to build.
By cooling the super-heated air coming into the intakes at the speed of sound with liquid helium, the SABRE engine can ignite a rocket motor while traveling at supersonic speed. Now mind you, this was only a test and we're still a few years away from an engine ready to go to market, but a technical audit by the ESA found no flaws with the design. So while Reaction Engines may seem like it's pitching something out of a science fiction movie, its technical chops seem to be in order and it's not hiding behind invocations of or trade secrets when faced with tough questions. This is why they've gotten several grants from the ESA to keep working on SABRE. However, the final tally for the Skylon spaceplane fleet is estimated at $14 billion, several orders of magnitude more than government grants being offered and out of reach for the vast majority of private investors. So far, the plan seems to be to solicit another $4 million or so in funding to finish SABRE to then license the engine to other manufacturers and use the proceeds to start building Skylons. It's certainly an interesting idea, but who exactly would want to license an SSTO engine?
How about SpaceX? Right now, to advance its strategy of licensing SABRE, the company has a derivative design called the Scimitar and bills it as already being 50% funded by the EU to bring intercontinental travel at Mach 5 to the world at large. Now, this would certainly help big airlines make more profits by flying trans-oceanic routes more often in theory, but in practice, the really, really burdensome regulations against supersonic travel thanks to the kind of NIMBYism which played a major role in preventing the supersonic travel revolution predicted by many futirists, as well as the lead time to finish, test, and prove these planes in operation, Reaction Engines may as well forget about Skylon for the next several decades. If it wants to raise money and interest for a spaceplane, it should focus on creating a spaceplane and selling the Scimitar to militaries as the child of the successful SABRE. Yes, SpaceX is working on its Dragon capsule for sending humans to the ISS, and it has rockets capable of getting there, but if it can offer rocket launches to deliver larger spacecraft into orbit, ready for a Skylon to deliver the crew, it can build a major competitive advantage. An extra 20 or 30 tons of cargo capacity can help enable a less spartan mission beyond Earth orbit, and Dragon could be an emergency habitat in deep space.
We should no longer have just one launch stack for sending humans into space, but instead, we need to mix and match our technology for optimal results. Doing heavy lifting with rockets while the orbit is given to SSTO craft and inflatable space stations for staging, assembly, research, or all of the above, is probably our best way to steadily expand upward into space. So maybe Elon Musk should consider working with Reaction Engines in the near future. The investment wouldn't be small and returns on it won't be quick, but they'll not only be an investment in furthering how far SpaceX can go and what it can do for its clients, but also an investment in the infrastructure of the dawning space tourism and exploration industry. And judging from many proposals for the future of NASA and space travel in general, he's rather likely to find deep-pocketed and willing partners to make it all work. After all, sticking to space capsules and heavy lift rockets for almost everything would be a huge technological step back to doing what we know rather than using all our past skills to build something for the future. Why should we circle back now, especially when there's promising technology to make it happen just waiting for people with a big vision and the resources to make it come together, especially at a profit when all is said and done?
---
---