it's quite literally the least you could do…
Yes, praying for someone after a tragedy is not even as helpful as sharing a news article about it on social media. And that's a very low bar to fail to clear...
Web comics occasionally like to sound off on real world events and even bizarre and disjointed projects such as Jon Rosenberg's Scenes From A Multiverse join in when they can. After skewering Ray Kurzweil's claim that the brain will be reverse engineered in the very near future, the sudden popularity of homeopathic woo when applied to other areas in our daily lives, and devoting a few strips to parodying our reaction to all the gossip in diplomatic cables released by WikiLeaks, Rosenberg took the disaster in Japan and the torrent of well-meaning believers offering to pray as hard as they could for the affected nation it triggered, and blended them into an entertaining statement on the power of prayer. Hint: it's not exactly an effective helping hand…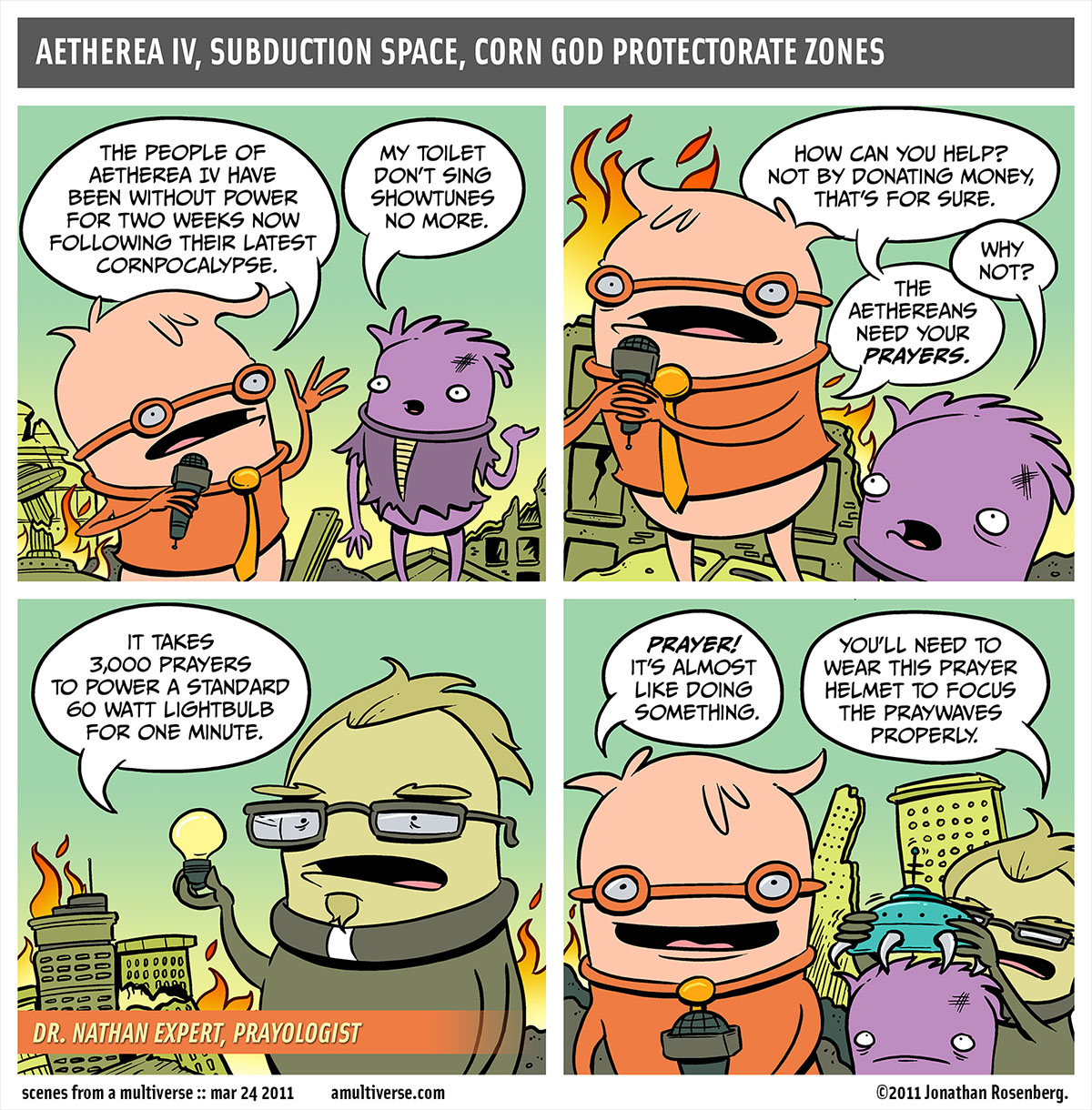 Just like I said before and will repeat again, if you really want to help someone, prayer is literally the last and the laziest option. Instead of flooding victims of a natural catastrophe with holy books, proselytizing treatises about taking what happened as a sign to "get right with God," and the of smug, patronizing lectures about the importance of virtue and faith we're so used to hearing from religious fundamentalists every time something bad happens, the faithful need to realize that they have to actually live up to the image of their community they want the public to accept: that of caring and selfless people willing to do anything to help their fellow humans in need. But when the faithful decided that best way to help their fellow humans affected by war, famine or an earthquake is to ask for supernatural intervention in their spare time and unleashing sanctimonious lectures which serve only as an exercise in amateur theology, they project a very different picture of themselves.
And it certainly isn't a flattering one, unless of course you consider being thought of as a petty, self-absorbed armchair theologist using faulty logic as flattering. If you're a believer who donated or volunteered his or her time for relief efforts currently going on around the world without bashing those you helped over the head with your holy books, I'd like to thank you for all your work. If you're a Facebook pontificator who decided that you've got an in with a deity and can just pray the world's problems away, or a missionary who thinks that without the right faith any help to a fellow human is useless, offering empty promises and tomes of ancient metaphysics instead of food, water, and medicine, thanks for nothing. You've done the absolute least you could possibly do while being able to claim you've actually got out of your chair. Though even then, that's not always the case.
---
---