how would you fight pacific rim's giant monsters in the real world?
Giant bipedal robots look cool in anime and movies. In real life, you probably wouldn't want to use them to fight giant eldritch creatures made of teeth, fangs, and acid.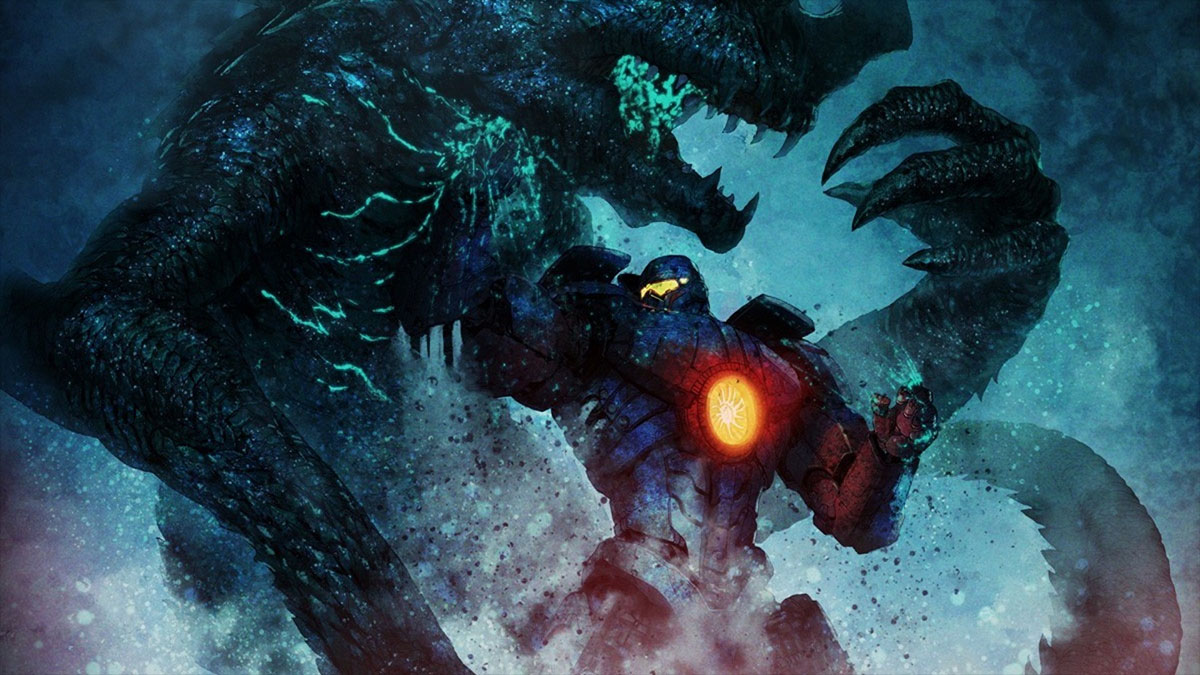 Yes, Pacific Rim is a loud popcorn movie best viewed with your brain operating at half capacity, just enjoying the show without asking any questions. And that's exactly what makes it fun. This may shock film snobs and critics who review Oscar bait, but not every movie in theaters needs to be an epic character drama that explores the fundamental issues with existence and the human condition, or brutally cataloging a bloody genocide while repeatedly beating its viewers over the head with heavy-handed questions about morals, ethics, free will, and what lurks within us all. At the same time though, big budget Hollywood spectacles with thin plots are usually outsourced to Michael Bay, or directors who emulate his style, who latch on to formulas that even the writers of Adam Sandler and Ben Stiller movies would find too flimsy and groan-inducing, then proceed to viciously drill them into your eyes to a soundtrack of explosions. Pacific Rim was thankfully made by Guillermo del Toro and easily avoids this trap by being a simple and very straightforward little tribute to giant robot vs. giant monster anime many twenty-somethings watched as kids.
But that said, there's something just not right about humanoid robots brawling with giant beasts sent from another world through an undersea portal called The Breach. Jaegers might deliver a knockout punch to a 30 story Kaiju or pound one over the head with a container ship to give the monster a hell of a concussion, but the mechanics just don't quite work. Kaijus are fleshy, which means they're more flexible and heal minor cuts and scrapes quickly. By comparison, a Jaeger would be made of comparatively brittle metal alloys and have to be refurbished after every fight, making it extremely expensive and labor-intensive to operate. When the Kaijus appear every six months or so as they did at the beginning of the war, the cost can be managed. But as the giant brutes keep getting bigger and bigger, and start appearing as often as once a week, resources are quickly going to start running dry, so building ever more Jaegers would quickly become very difficult. No wonder that the bureaucrats who run the world in Pacific Rim want to shut down this once promising program for a wall to keep the Kaijus out. They can't afford it anymore.
Of course one also wonders how they got the Jaegers to be bipedal at such a scale. Walking on two legs is very computationally expensive for a machine that's as big as a high rise, and even a small bump in the road could send these robots falling, and falling badly. Not only that, but they give the Kaijus excellent points of attack: the ankles and the knees. To truly make their punches count, the Jaeger pilots have to get their robots to behave just like a human fighter and put the core and hips into the blow. Punching in a basic one-two sequence, the weight would swing from leg to leg, so a counter-attack from a Kaiju aimed at the thigh or the side of the knee could send a million tons of robot down hard with its head lined up for a finishing blow from above. You can see the same idea in mixed martial art disciplines which use stomps and side-knees in a clinch to shift an opponent's weight so you can topple him and get full mount for a well placed elbow, or a swift hammer fist to the side of the head. Jaegers would simply not be flexible enough to survive this sort of assault in the real world. Many much less brittle and more coordinated humans aren't without at least a little training or a whole lot of mass to counteract the impacts.
For better fight mechanics, I would have designed Jaegers to look more like sumo wrestlers. An extremely wide base either on tracks or hovering with the aid of nuclear powered jet engines, no legs, and stuffed with ranged weaponry to soften up the Kaiju as it charges. Large, thick, heavy arms with huge claws would pummel the monsters at close range and its barrel-like core would spin naturally, so tipping it over or even getting it off-balance would be a Herculean task, even for the fat Category 4 Kaiju which attacks Hong Kong in the movie's second act. Its hull could be made of something flexible like kevlar to make it tougher for a Kaiju to bite through and diffuse a good deal of the force that would be generated by a direct hit. One could even imagine it pulling off a complicated sequence just by rotating around its axis. For example, it could hit a Kaiju with an enormous left hook starting about 30 degrees left off center, keep spinning until it can follow the punch with a right elbow at between 60 and 120 degrees right off center, and returning back with a left hammer fist and a right hook, using the hits on the Kaiju to redirect its momentum.
And while we're redesigning the Jaegers, we should ask why they can't be piloted remotely. We can control drones halfway across the world in real time and all of the infrastructure to pull off a similar feat with a giant robot seems to be in place in the film. To minimize lag, the pilots should be in the base from which their Jaegers would be launched, but they wouldn't have to be in their robot. Their brain-machine interfaces with their co-pilots and with their machine are going to be implemented as an abstraction over the kernel of the Jaeger's operating system anyway so the pilots could fight, lose, and be ready to fight again as soon as a new machine is ready to go. It's actually kind of a no-brainer that allows them to switch tactics, pushing the Jaegers further and taking risks that could kill them if they were in the actual robot but win the day in the end. There would be a huge psychological boost from seeing a Kaiju on a big screen in a bunker instead of up close and personal, its fangs tearing through the cockpit and rattling the robot around. Yes, it's not as heroic or dangerous, but much more militarily effective and politically beneficial.
But then again, all of this is based on the idea that Jaegers make for the best front-line defense when a Kaiju attacks. That's not necessarily true. We know they can be killed by nukes, but the proposition of turning the world's most populated coastlines into radioactive deserts is a tough sell and actually doing that will kill food production and give the Kaijus a beachhead from which they can mount assaults further and further inland. However, launching a very large kinetic kill vehicle from orbit, basically a huge spike dropped from a satellite, could hit a Kaiju with roughly the same yield as a 300 kiloton nuclear warhead without all the radiation. Currenly we can't build and launch wepaons like this because they violate the Outer Space Treaty, but when there's an angry horde of aliens that can flatten a city block with each step rampaging on Earth and all of the nations unite in building and deploying Jaegers, I'm sure exceptions could be made and the current space faring powers can launch a system of satellites ready to drive a super-heated alloy slug into a Kaiju at hypersonic speeds at a moment's notice. Should that somehow fail and some time needs to be bought for another shot, Jaegers can coral the beast into the kill zone.
This is how you would fight a Kaiju in the real world. Orbiting KKV launchers that can fire off an exceptionally engineered slug at the planet below at a moment's notice, drone bomber swarms, and giant mobile weapon platforms known as Jaegers, remotely piloted as a last line of defense against the nightmarish beasts. Pacific Rim's spectacle is great for a live action anime movie, a solid tribute to the genre, and it creates tension by putting the main characters in real danger in the maws of the Kaiju, but if we were to translate any of it to the real world, it would be a militarily unsustainable strategy with little chance of actually working. The only worse strategy would be a giant wall to keep the monsters out, i.e. the Wall of Life being built in the movie, but it seems like the competent commanders in the Pacific Rim universe were all on leave throughout the war and this is why the world has been stuck with worse and worse ideas for fighting the alien titans. But hey, how mad can you be at a movie's plot holes if it lets you mentally design giant robots and a swarm of global space-based defenses to fight aliens the size of an office block?
---
---